The Dialogue was successfully Concluded on 11th August 2020. We thank you for your support and participation!
AVLIAS is pleased to invite all members to join the Workforce Advancement Federation's on an exclusive VIRTUAL dialogue with Mrs Josephine Teo, Minister for Manpower to better understand the support measures for enterprises and receive latest updates on the Labour Market Forecast for the 2nd Quarter.
Year 2020 has started on a rough note for some businesses in Singapore with Government unveiling number of packages to support Singaporeans and Businesses through these challenging times. These packages, the Resilience, Unity, Solidarity and Fortitude Budgets announced over the past months sets to combat threats posed by the COVID-19 outbreak leading to bleak outlook worldwide.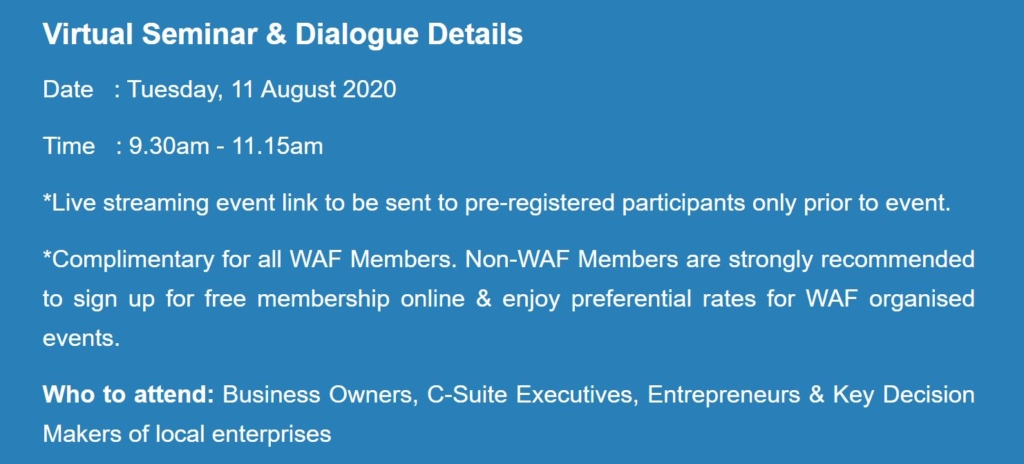 For further enquiries, please contact WAF Secretariat at rsvp@waf.org.sg.
27th April 2020
Jointly organised by AEIS, SIAA and AVLIAS, the business webinar concluded successfully on the 24th April 2020, Thursday.

While this was the first time the industry alliance has done a webinar together, we were pleasantly surprised that the event attrcted and registered over 100 delegates!   
Our appreciation goes to the Guest Speaker,  Mr Shawn Phua, Senior Business Adviser from The SMECentre@ASME who deepened the delegates' understanding on how their business can leverage on those financial supports released by MOF weeks ago!
A STEER Programme for AVLIAS to engage and assist their members to Sustain business, Growth or Capability Upgrading!

2nd April 2020
Initiated by the Enterprise Singapore, the STEER programme is meant to assist the local SMEs to cope with the economic repercussion from COVID-19!
Upon approval, Enterprise Singapore will match S$1 for every $2 raised by the Industry Association, up to S$ 1 million per fund. This STEER programme is a part of the overall Supplementary Budget that is purposely set for the company to help themselves to ride the current business disruption.
On behalf of our members, AVLIAS plans to apply for this STEER Programme before 17 April 2020 and hope you can join us.   For clarification, please read the document attached and appreciate it if you can complete the simple Q&A.  To Read More : HERE 
A quick summary of the Singapore Resilience Budget 2020 which you need to know!
26th March 2020
Known as Singapore's Resilience Budget, the Supplementary Budget 2020 includes revised Government revenue and expenditure plans for the current financial year. It complements the Unity Budget presented on 18 February, and addresses the rapidly evolving COVID-19 situation and the impact on Singapore's economy and society.
To Read More : HERE 
In view of the COVID-19 outbreaks, AVLIAS and our industry partner, Singapore Industrial Automation Association, have put together an information package for your reference about the COVID-19 (Novel Corona Virus). Please note that COVID-19 advisories are constantly being updated on the Singapore  Government Agency website. For latest update, click HERE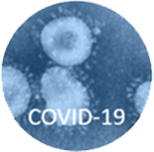 ADVISORIES ON COVID-19:  MINISTRY OF MANPOWER
The Ministry of Manpower (MOM) has issued a General advisory for workplace measures in response to DORSCON Orange situation in Singapore. Click HERE to read more.
RISK MANAGEMENT: WHAT ORGANIZATIONS NEED TO DO TO SURVIVE A PANDEMIC?

Risk assessment versus best practices are practical tools that your company can utilize during a pandemic outbreak.  Click HERE to read a Harvard Business School's thought leadership on Risk assessment and to survive a pandemic outbreak.
Click HERE to read Entrepreneurs extensive guide on crisis management and business continuity planning.
GUIDE ON BUSINESS CONTINUITY PLANNING AMIDST COVID-19 OUTBREAKS

Enterprises are encouraged to plan and implement business continuity plans to minimise disruption to their operations and ensure that business remains viable during the virus outbreak. Enterprises can take the following steps to ensure adequate preparation for business continuity: Human Resource Management /  Process & Business Functions / Supplier & Customer Management / Communications
Click HERE to access the full guide on Business Continuity Planning by Enterprise Singapore & SBF.  If you do not yet have a plan in place; click HERE to get in touch with government appointed business continuity bodies to get started.
ASSISTANCE PACKAGES – SUMMARY POINTS OF BUDGET 2020 – BUDGET 2020 BOOKLET
The Singapore government has put together a package to assist sectors hit by COVID – 19.  There are many other assistance schemes highlighted in Budget 2020 for Singaporeans' benefits.  Click HERE to read the budget booklet.
SHN (STAY HOME NOTICE), LEAVE OF ABSENCE (LOA) SUPPORT PROGRAMME (LOASP) FOR BUSINESSES AND SEPS

With the introduction of SHN, no new Leaves of Absence (LOA) will be issued. Those who are currently on LOA will continue to serve out their LOA under conditions set out earlier by the Ministry of Health (MOH) and Ministry of Manpower (MOM).
A support program is in place; Eligible personnel will receive SGD$100 per day during SHN period.  Click HERE for details for further information.
WORK FROM HOME – 5 TOOLS TO WORK FROM HOME

Many companies are implementing "WORK-FROM-HOME" status as a reaction precaution for the COVID-19. Consider using some of these tools when your staff needs to work from home as part of the business continuity plan.
Click HERE to view National Newspaper Straits Times's feature on Work-From-Home tools.
On behalf of the AVLIAS, we advise members to take care of yourselves, your staff and families by understanding a list precautionary measures and assistance schemes which are readily available to you as a businessman, a citizen, a family member and as a part of the Singapore Workforce.
---